Regular price
Sale price
$83.99 USD
Unit price
per
Sale
Sold out
Create a Sink and Toilet Combo with Sink Twice
Wash your hands with the clean water, leaving the soapy water to clean your toilet when flushed! Sink Twice is a major water saver, leak detector and a space saver.
Our patent pending "fill cycle diversion" faucet is a significant leap ahead of our competition in water efficiency. The basin has plenty of room on the flat soap holder for foam soap containers and the drain is specifically designed to prevent splashes.
This sink twice model measures 17" and is recommended for small toilets measuring 14" - 16.75" (measured with the lid off). If your tank is larger than 16.8" (measuring the outside of the tank walls with the tank lid off), please carefully read below.  It can accommodate tanks front to back measured across the center up to 8 3/8".
Sink Twice is designed to function best with Universal valves (i.e. Fluidmaster, Korky and common ball and valve combinations). FluidMaster 400A is best if you need a valve. Sink Twice is compatible with gravity fed (not jet fed or tankless) toilets. For tanks smaller than 15.25" wide measured with the tank lid off, please purchase our new "Sink Smaller" model. If you have a 1.6 GPF toilet, please buy our "Sink Again" model which best fits toilet tanks 17" -19.5" (measured with the lid off) or carefully consider whether you need this model or this model that is sold together with an expander kit. For large rectangular tanks, you have two options - for rectangular tanks measuring 18" - 20" (measured with the lid off), please buy the "Sink Bigger" model. For tanks measuring 19.5" - 21" (measured with lid off) please buy this model WITH our expander kit sold separately OR we now offer "Sink Twice Adaptable" which is the Sink Twice original sold together with its expander kit.  Buying the Adaptable version usually saves a few dollars and is recommended if you think you need it.
We pride ourselves in quality, efficiency, and customer service. We are a 100% family-owned Colorado company. Please contact seller with any questions. 
View full details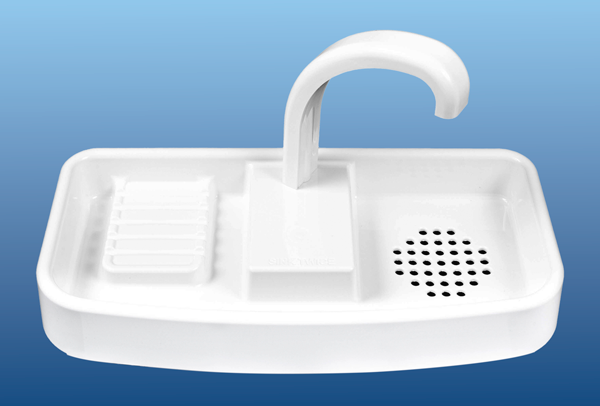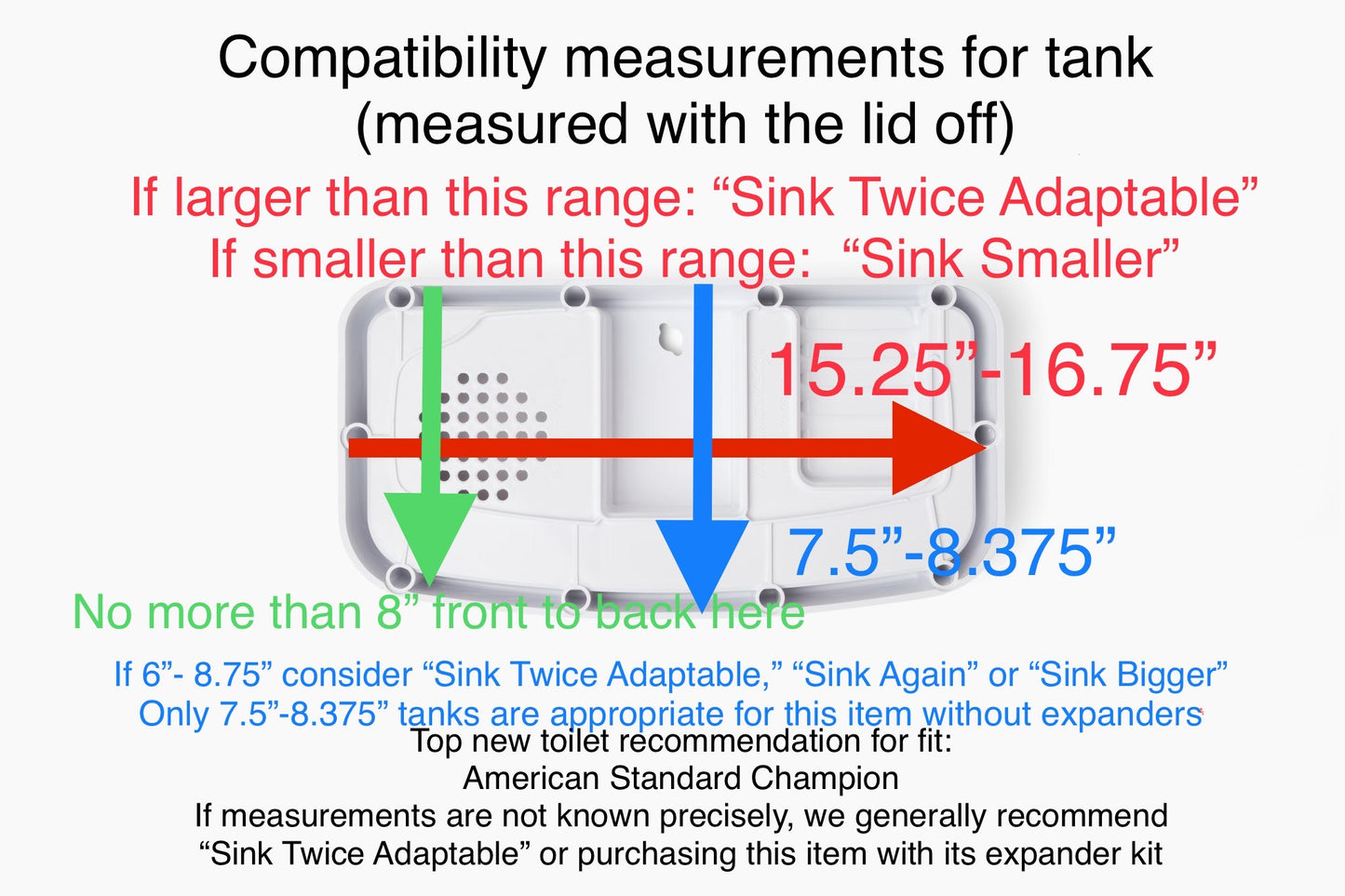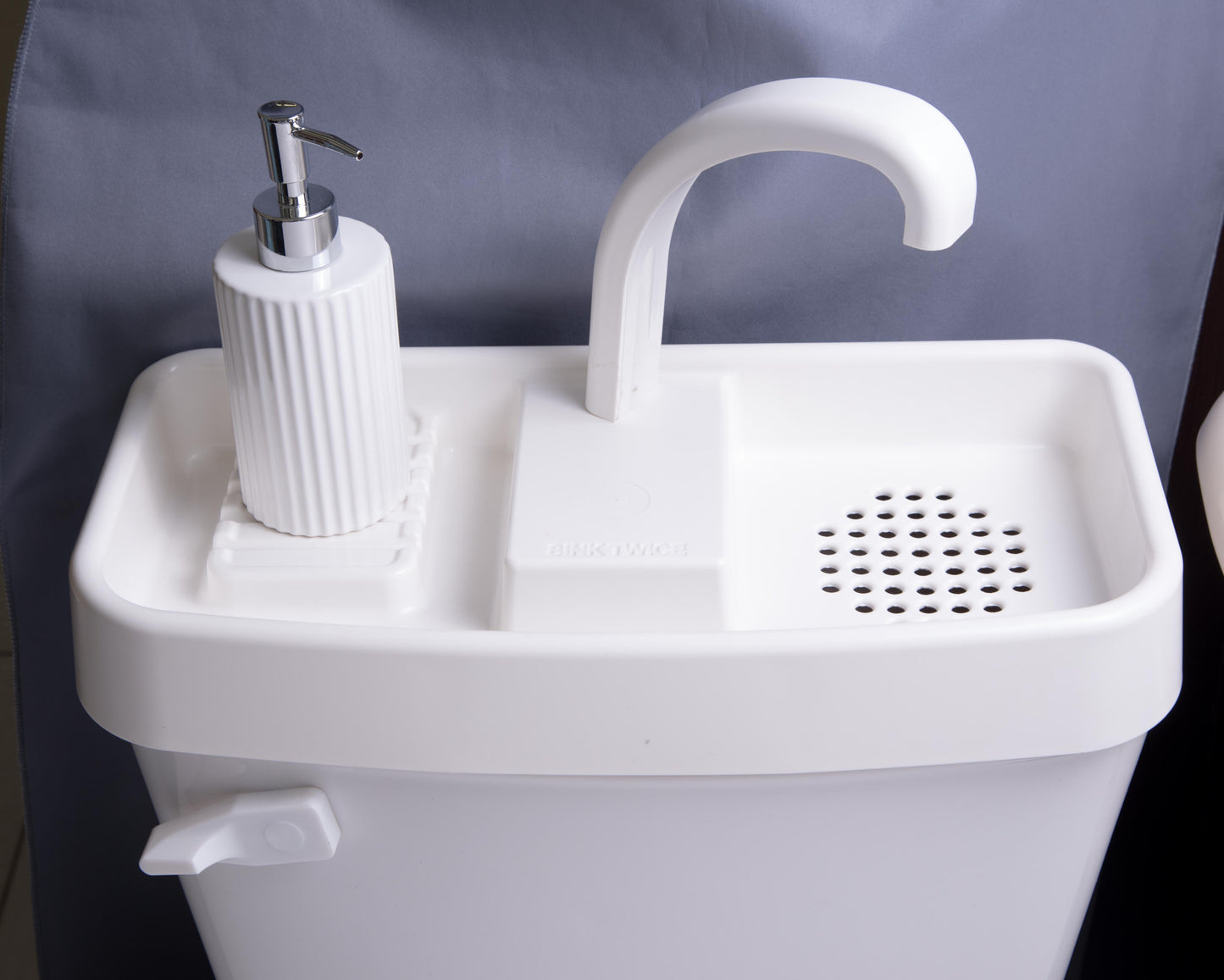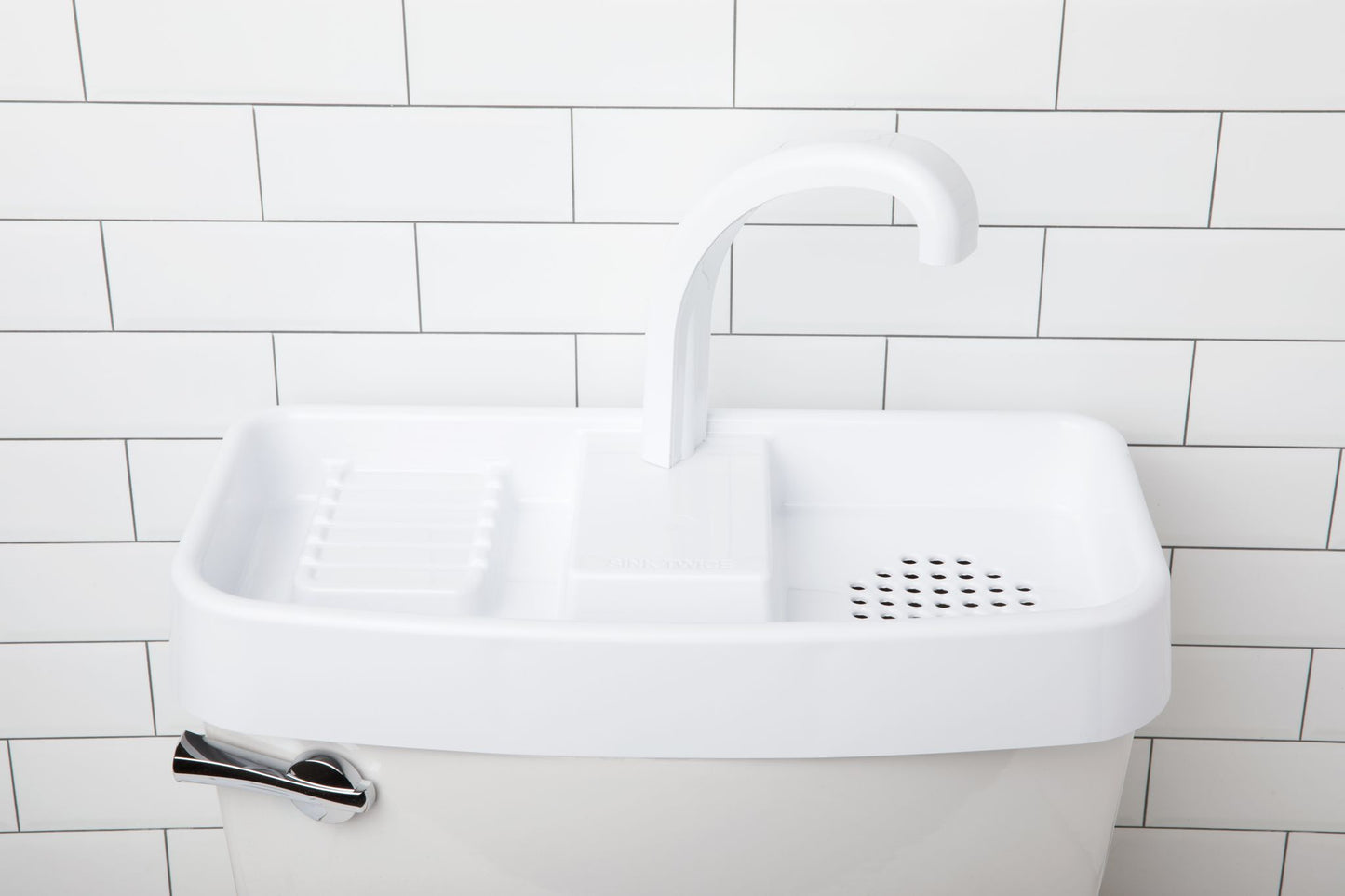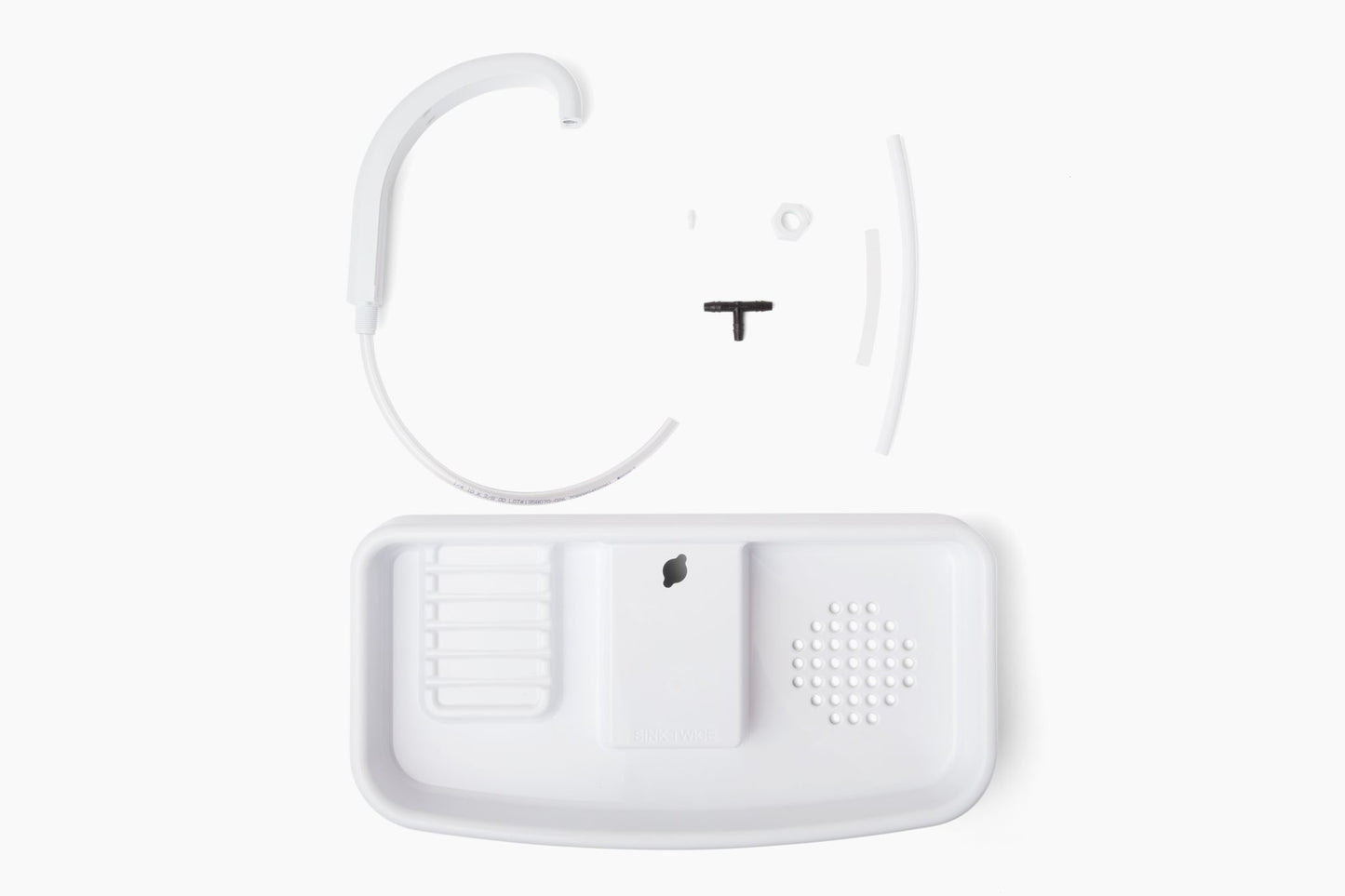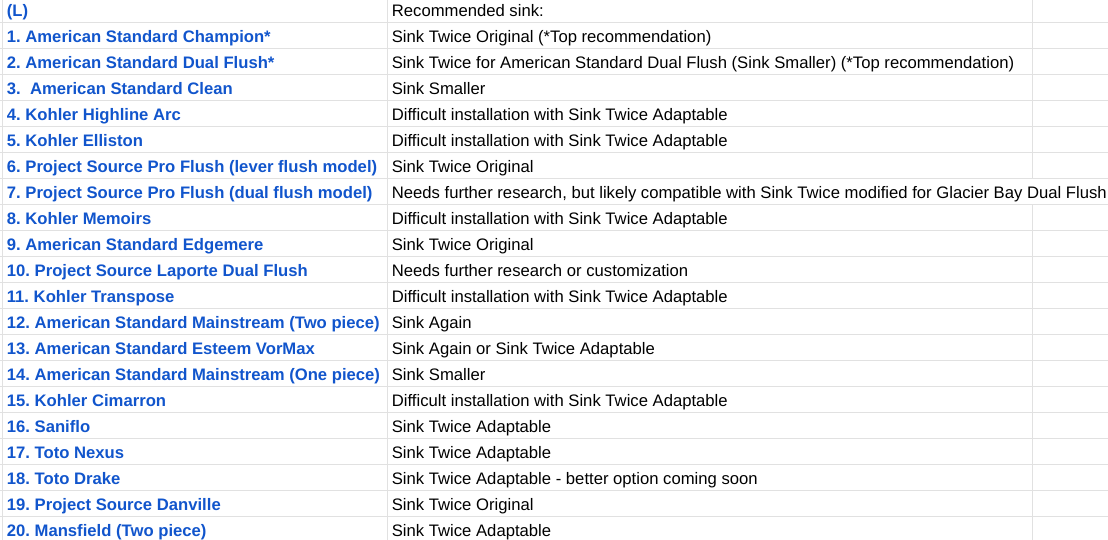 Free Shipping and Financing Available

Sink Twice offers free domestic shipping and interest-free financing so your water bill savings can help pay for your purchase!

Dedicated Customer Service

If you have questions about installation or would like any assistance, please text our customer service at 303-345-3508. We are always happy to help.